18 tags
16 tags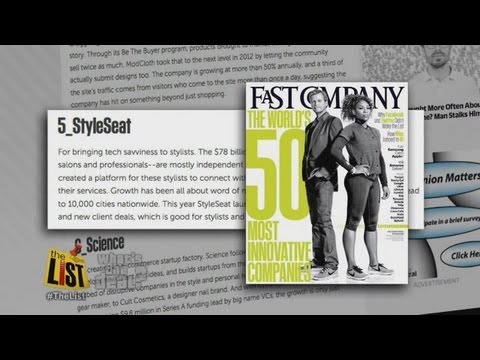 4 tags
10 tags
Require clients to provide a credit card to book...
We now offer the option to hold credit cards when clients book appointments with you online. Now you can dodge all those pesky last minute cancelations!  Join StyleSeat Premium to get access! This feature is available in the Scheduler and Deluxe packages.  Here's how it works: Head to "My Home/Settings/Online Booking". Where it says "Require clients to provide a credit...
6 tags
5 tags
Watch
Learn How to Market Your Business Online! Learn the top 5 things you can do to market your business online using StyleSeat!
10 tags
10 tags
Congratulations to the Winner of our Spring...
Congratulations to Rebecca Brumfeld, winner of a brand new iPad!  Rebecca just joined StyleSeat as a massage therapist and we're thrilled to have her here! She works at Vida Pura Spa in Baton Rouge, Louisiana and she just started using StyleSeat to manage her business and offer online booking! Check out her new website here! Didn't win this time? No worries! We'll be...
11 tags
StyleSeat meets SF Uncubed!
We joined tons of talented startups at Uncubed's first SF event! Uncubed is an event that encourages people to leave their cubicles and come work for rockstar startups in Silicon Valley! We set up a booth, wooed them with cupcakes and free manis, and chatted it up with some of the bay area's most talented developers and designers! Check out pics below.  Our founder, Melody...
12 tags
PyCon Manicures!
PyCon is an event for the developer community using the python programming language. Once again, technology meets beauty! We booked a manicurist on StyleSeat to come and give the ladies and gents of PyCon some much needed pampering! Check out our photos below! Lila Robles, Manicurist Lila Robles, Manicurist Lila robles, Manicurist The PyCon Ladies and Guys!
13 tags
"Sign Up for StyleSeat and Win an iPad...
Official Rules "Sign up for StyleSeat and Win an iPad Sweepstakes" PLEASE REVIEW THESE OFFICIAL RULES BEFORE ENTERING THE SWEEPSTAKES. NO PAYMENT OR PURCHASE IS NECESSARY TO ENTER OR WIN. A PAYMENT OR PURCHASE WILL NOT INCREASE YOUR CHANCES OF WINNING. VOID WHERE PROHIBITED BY LAW. GENERAL CONDITIONS: The "Grow Your Business and Win an iPad Sweepstakes" (the "Sweepstakes") is sponsored...
11 tags
Get reply text messages from clients!
Now when you send automatic SMS texts to your clients, they can reply back to you! Small changes like this equal big improvements when it comes to your client communication. Our goal is to streamline your client relationships by making it easier for them to ask you questions and send you quick notes before their appointments.  *This feature is part of our Premium Scheduler and Premium Deluxe...
8 tags
Send direct marketing emails to your clients!
Now you can send targeted email newsletters to your clients! Here's how it works: Send an email only to the clients that HAVE NOT booked an appointment in 8 weeks or more, reminding them that's it's time and encouraging them to come back! Send an email to only the clients that you HAVE seen the last 8 weeks, letting them know about upcoming specials or telling them about new...
10 tags
Revenue Reporting for your salon business!
We now have Revenue Reporting available for our Scheduler and Deluxe Premium members! (and just in time for tax season, too!) To access your reports, just head to "My Home/My Business/Revenue Reports" Just set the dates you'd like your report to start and stop and click on "DOWNLOAD NOW". *more advanced Revenue Reporting coming soon!
13 tags
Ashton Kutcher and Sophia Bush stop by the...
Our little team got a BIG treat when a couple of our celeb investors made an impromptu visit to our StyleSeat headquarters! And you know we had to snap a couple pics;) Check 'em out! 
14 tags
StyleSeat Meet Up at our HQ!
We brought local SF beauty and wellness pros together to enjoy some champagne, make new friends, and get an update about what's happening at StyleSeat. We had a blast with everyone and we can't wait to do it again! Which city should we head to next? Gilbert Pickett and Jet Black StyleSeat Co-founder Dan Levine chatting w/ some guests StyleSeat Co-Founder Melody McCloskey and...
11 tags
SFGate names online salon booking "a beautiful...
SFGate's Ellen Lee wrote a fabulous piece about StyleSeat, our Founder Melody McCloskey, and how we cater to clients' expectations for instant access. 
11 tags
StyleSeat Brings the Stylist To You!
We know what clients want, and we know what stylists need. So we created a new feature called "To You", where clients can bring the stylist to their homes! Check out Vehem had to say about it!
20 tags
On Demand Valentine's Day Manis!
We went around to some local startups on V day to spread a lil' love and give these tech gals a taste of luxury! We booked manicurists on styleseat.com using our "To You" feature, and had them set up shop at offices around town. Check out some great pics from the event!  Brit.co HQ, Nails designs by Elizabeth Oro  Nails designs by Elizabeth Oro  OKCupid Labs, Nail...
13 tags
TechCrunch announces our launch of "To You," Lets...
We launched a new service to let clients book beauty and wellness professionals to their home! "To You" lets clients book on location stylists and makeup artists online, and enjoy the service right in the comfort of their home!  Check out our TechCrunch article announcing our recent funding and our newest feature!
9 tags
Fast Company names StyleSeat Top 10 Most...
Each year, Fast Company finds the best and the brightest companies that are creating the most innovation in their industry. We are honored to be amongst the top 10 included in their style roundup! Check out the full article here. 
15 tags
30 tags
StyleSeat On Demand at the Crunchies!
Thousands of Silicon Valley's best and brightest got together on Friday to celebrate all things tech at the Crunchies! John Oliver hosted the event (and was hilarious) and GZA from Wu-Tang kicked the entertainment up several notches. To help some of the attendees look gorgeous, we launched a beta of our upcoming on-demand service! Clients booked their appointments online, and we sent the...
8 tags
Bay Area Meetup at our new HQ!
15 tags
Merge Your Clients
There are 2 ways a client can be entered into your client tab:  A client creates an account on StyleSeat and books an appointment online with you.   You add a client to your client tab via import, or manually.  Clean up your client list and get rid of duplicates If you want to merge 2 duplicate client entries, first go to 'My Home/Clients" when you're logged into your...
13 tags
How to Book an Appointment with a Professional
Book an appointment online on StyleSeat! You found the professional of your dreams, and you want to book your appointment online.  Here's how to book an appointment: 1. Click the "Book Me" button next to the service that you would like to book. This will open up the Professional's calendar for you to view. The dark teal squares represent the times when the Professional...
13 tags
StyleSeat + Uber Prep Party!
The ladies over at Uber, an on-demand black car service, called on StyleSeat to help them get pretty for a special event. We brought in hairstylists and makeup artists to their headquarters to help them prep for the big night. Check out some pics from the event, and be sure to keep our beauty pros in mind the next time you have a special event of your own!   Makeup by Misty Spinney, Hair by Sarah...
Watch
Wanna know the story of how StyleSeat got started? Kevin Rose of Foundation sits down with StyleSeat Founder, Melody McCloskey in an intimate interview to get the scoop on how she got into tech and what inspired her to change the beauty industry. Full interview here.
13 tags
Add/Update your Payment Information
Now that you've created a New Client Offer, you'll need to add your payment information so we can send you the revenue you've earned from your new clients! Once you've submitted your New Client Offer, click on "Set your payment preferences". You can choose to be paid via check, or we can deposit the money directly into your account by setting up direct...
9 tags
November Newsletter!
In case you missed our November newsletter, we have it all right here for you. Check out the latest on what's happening around the site and what we have in store for the holidays! 
7 tags
Trackin' the 'Stache
Co-founder and CTO of StyleSeat, Dan Levine, is growing out his stache in honor Movember! Check out his progress over the last couple weeks, and take a peak at his mospace in support of men's health awareness.  http://us.movember.com/mospace/5517917 Week 1: Week 2: Week 3:  Week 4: We made it! 30 days later and Dan has a full 'stache, and over $1k to donate to men's...
8 tags
Congrats to our WINNER!
Congratulations to Chandra Marie Hall of Shed Salon, winner of yesterday's social media giveaway! We asked the following question on Facebook and Twitter, and we think Chandra had the best answer! "What's the WORST at-home beauty mistake you've had to fix on a client in the salon/spa? Best answer wins a November Brit Kit full of goodies!" Chandra's answer: ...
9 tags
View, Cancel, Change or Re-book Your Appointments...
View, Cancel, Change or Re-book Your Appointments online! View Your Client Account helps you keep track of all your appointments. Log in by going to www.styleseat.com and clicking "Log in" in the in the top right hand corner. Go to "My Home/Appointments" to view your upcoming and previous appointments. Cancel To cancel your appointment, click the red "X Cancel...
8 tags
Restart the App on your Mobile Device
If you're seeing an error on your StyleSeat app it would be a good idea to restart the app to make sure you have the most recent version! To restart the app, go to the "More" tab in your StyleSeat app and tap on "Clear Data and Resync" This will reset your app and re-sync all of your data from your online scheduler. If the problem still persists, try Uninstalling...
11 tags
Uninstall and Re-install Your StyleSeat...
If you recently updated your StyleSeat App or iPhone/iPad and it's acting a little weird, try uninstalling the StyleSeat App and then re-installing it. Here's how: 1. Hold your finger down on the app until it starts dancing and an "x" appears above the app. 2. Tap on the "x" and it will ask you if you want to delete the app. Tap on "Delete" to...
7 tags
Forbes mentions StyleSeat in article on "Women in...
Check out this solid Forbes piece on women in tech and the evolution of opportunity. Our CEO, Melody McCloskey is highlighted for her leadership role in Silicon Valley as she drives efforts to continue disrupting the beauty industry!
13 tags
Change your StyleSeat Email
It's super easy to change your email address on StyleSeat.  Change Your Log In Email Address: To change your log in email address, click on "Account" in the upper right corner of your StyleSeat screen. The click on the "CHANGE LOGIN EMAIL" tab and enter your new login email address. That will be the "email address/user name" you use to log in to...
6 tags
StyleSeat in InStyle "Best of the Web 2012"!
InStyle Mag included StyleSeat in their annual "Best of the Web" round-up! Each year the international style mag sifts through every beauty app and website out there, and creates a final list of the best, most innovative technology happening in beauty around the web. This year StyleSeat made it on their much-coveted list of top picks! We're so proud to be part of the...
8 tags
Startups & Style
StyleSeat had the honor of participating in a fantastic event this past week! We were lucky enough to be invited to help host "Startups & Style", San Francisco's effort to bring fashion, beauty and tech together in one room. We had StyleSeat hairstylists, a makeup artist and a manicurist on hand during the event to add a special touch of beauty to everyone's look!...
10 tags
Premium Support
We're happy to announce Premium Support is now available for StyleSeat Premium Subscribers! If you have a question about StyleSeat, it's now easier than ever to ask us! Live chat with one of our support specialists by clicking on the "Premium Support" pop-up in the lower right corner of your screen when you're logged in, and type us your question.  One of our...
10 tags
Introducing StyleSeat Premium.
We're proud to announce the launch of our brand new StyleSeat Premium! We've built some awesome features to help you simplify your business and continue to grow your clientele. Here's how it works: StyleSeat Premium offers 3 packages so you can choose what's right for you and your business. StyleSeat Premium Deluxe: For the professional or salon that uses StyleSeat...
17 tags
StyleSeat Premium Deluxe
StyleSeat Premium Deluxe is for the professional who wants it all and puts the growth of their business first. This subscription package has all of the features in Premium Marketer and Premium Scheduler, all for a great price! Increase revenue from new and existing clients, and save time running your business with this incredible package. StyleSeat Premium Deluxe includes: StyleSeat Premium...
8 tags
StyleSeat Premium Scheduler
StyleSeat Premium Scheduler is designed to give you enhanced scheduling functionality and help you save time. Work smarter, not harder with this great package! Features include: RECURRING APPOINTMENTS: to allow you to more easily schedule clients that come in regularly ADVANCED SCHEDULE CONTROL: to have full flexibility over your schedule- change last minute availability or your entire...
9 tags
StyleSeat Premium Marketer
The StyleSeat Marketer subscription package is geared towards those who want advanced marketing features to grow their business by increasing revenue from new AND existing clients. It comes with a few great features: EMAIL MARKETING:customize emails/newsletters to send to clients and send it instantly PREMIUM BADGE: increase visibility in the StyleSeat directory and give your page additional...
8 tags
Advanced Schedule Control
Ever want to open up your hours for one day last minute, or maybe change your hours starting at a date in the future (ex. Starting in October I'm no longer working Fridays), well now you can! Advanced schedule control lets you change the availability of just one day. To do this, click the schedule change icon at the top of a day on your calendar. Now change the availability for this...
11 tags
Customized Client Reminders and Thank You Emails
Want to add a customized touch to your automatic client communications? This feature is right up your alley! To start, go to Settings/Client Communications. Next find the area that says "Customized Text Messages Reminders" with the text box. Part of the text message is automatically filled-in according to your clients' appointment details and can't be edited, but the...
14 tags
Client Checkout
Client checkout is a great feature for being able to track your appointments, revenue and payment type more easily. At the end of the year you'll be able to create financial reports for your records and make taxes easier when the time comes. To check out a client, click on the appointment on your calendar, make sure the appointment details are correct, and click the "Checkout"...
8 tags
Email Marketing
Ready for email marketing?! This feature can be found on the client tab under "Email Marketing". To get started click on the link that says "Create New Email Campaign". First step is to pick a name for your email so you can save it in case you want to review it later. Next you can pick a subject line for your email -remember your clients will see this, so pick a good...
11 tags
Recurring Appointments
Recurring appointments are finally here!! *three cheers* This feature is perfect if you have a client that comes in on a regular basis (every 4 weeks) and you don't want to have to re-book their appointment every time.  With recurring appointments you make the appointment once, set up your recurring preferences, and your appointment will automatically show up on your calendar instantly! ...
8 tags
Client Appointment Request
Our client appointment request feature is an incredible way to get new appointments if you don't book online with StyleSeat, capture new clients who want a little more information before booking an appointment, or want to book an appointment during your off hours when you don't allow online booking. Clients can click "Request" and easily send you an email with a question...